Back to Articles
Do You Eagerly Await Christ's Coming?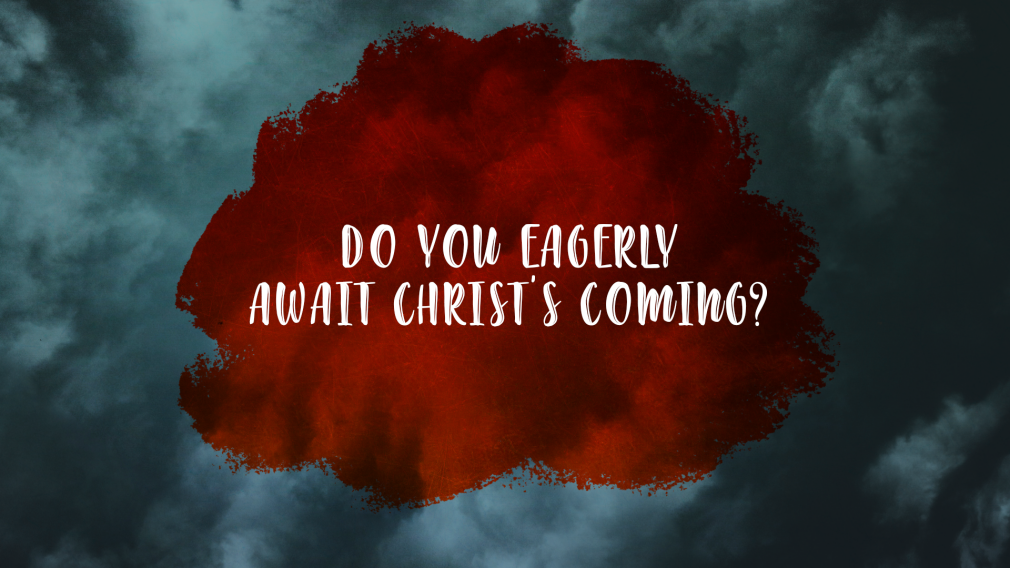 Do YOU eagerly await the coming of Christ? And I don't mean: Do you believe in the doctrine? Do you eagerly await him? Have you thought about the second coming of Christ today? The anticipation of his coming is the evidence of his preciousness and how you honor Christ and your relationship with Him. You can test the reality of your faith by whether you are eagerly waiting for Christ's coming. Especially in these days, where we find ourselves in our homes, may we be reminded of who is coming to gather His church with Him to heaven.
Philippians 3:20 – But our citizenship is in heaven, and from it we eagerly wait for a Savior, the Lord Jesus Christ.
I don't mean that you must think about the second coming of Christ all the time. Rather, ask yourself these three questions:
Does your mind return frequently to the truth of Christ's appearing?
When your mind turns to the truth of his appearing, does your heart want it — is there an eagerness to see him?
Do you pray for His coming? Come, Lord Jesus! Come and rescue your church for your glory and praise.
The Coming of Christ Is Worthy of Eager Expectation
Inspired by a devotion from John Piper
My prayer is that God will touch us all and make us love His appearing.
Titus 2:13 says, "waiting for our blessed hope, the appearing of the glory of our great God and Savior Jesus Christ."
Note three things very briefly:
1. It Is a Blessed Hope
We should eagerly await the appearing of our great God and Savior Jesus Christ because this is a BLESSED hope. A blessed hope is the opposite of a cursed hope. So, the first reason to be eager for this great day is that it will mean blessing and not cursing.
"There is therefore now no condemnation to those who are in Christ Jesus" Romans 8:1. There is only blessing for those who are in Christ Jesus. As awesome as the coming of Christ will be, there will be no curse in it for Christians.
Notice what Christ is called in this verse: "the great God and SAVIOR!" Savior! Not merely Judge. Therefore, "let us put on the breastplate of faith and love, and for a helmet the hope of salvation. For God has not destined us for wrath, but to obtain salvation through our Lord Jesus Christ" 1 Thessalonians 5:8-9.
It is a blessed hope, not a cursed one. Our hope is a confident expectation of salvation not wrath. We have great things to look forward to as we continue to live for Christ and no longer live for ourselves on His earth for His glory (2 Corinthians 5:14-15).
2. It Is a Visible Hope
It is the APPEARING of the glory of our great God and Savior Jesus Christ. Ever since the Son of God became a man, men and women have wanted to see Jesus. John seems to make everything hang on this one hope: "It does not yet appear what we shall be, but we know that when He appears, we shall be like Him, for we shall see Him as He is" 1 John 3:2.
I don't want a long-distance phone call or letter or Zoom meeting. I want to see the lips of Jesus, in person, move on that great day when the grace of His heart overflows with the words, "Well done, good and faithful servant."
3. It Is a Glorious Hope
It is "the appearing of THE GLORY of our great God and Savior Jesus Christ." Listen to John's attempt to put this into words in Revelation:
I saw . . . one like a son of man, clothed with a long robe and with a golden girdle round His breast; His head and His hair were white as white wool, white as snow; His eyes were like a flame of fire, His feet were like burnished bronze, refined as in a furnace, and His voice was like the sound of many waters; in His right hand He held seven stars, from His mouth issued a sharp two-edged sword, and His face was like the sun shining in full strength. Revelation 1:13-16

Behold, He is coming on the clouds of heaven with power and great glory; and He will send out His angels with a loud trumpet call, and they will gather His elect from the four winds, from one end of heaven to the other. And we shall glorify the Lord and enjoy His greatness forever and ever. (Matthew 24:30-31; Luke 21:27)
Henceforth there is laid up for me the crown of righteousness, which the Lord, the righteous judge, will award to me on that Day, and not only to me but also to all who have loved His appearing. (2 Timothy 4:8)
Do you love and long for the appearing of Christ? If not, why not? It may be that this world has taken a more important spot in your heart and your love for your Savior has grown cold. Confess these things to the Lord and set yourself to meditate on the blessedness, visibility, and glory of the coming of our great God and Savior, Jesus Christ.
He is coming soon!
We have some good things to be looking forward to in the coming week. This Sunday, April 5th we will be celebrating Palm Sunday with our 9:30am livestream where we will see our Savior entering Jerusalem and setting His gaze towards the cross and suffering and paying the penalty for sinners. Then we will look to our Savior's death on the cross as we host a Good Friday livestream service at 7pm April 10th. And we close the week on Sunday April 12th as we celebrate the glorious resurrection of our Lord Jesus Christ where He proved that He is the Son of God and the atoning sacrifice to save us from our sin, death and hell. What a glorious King! Come and celebrate with us at our 9:30am livestream.
As we long for the coming of our Savior and eagerly await His second coming, may we be a praying church. On Wednesday nights at 7pm we have our all-church prayer time. Come and join us.
It has been said,
"Prayer is as natural an expression of faith as breathing is to life." - Jonathan Edwards
When we pray for each other this is the foundation as we practice the one another's. To pray means to care for one another, to pray means to carry one another's burdens, to pray means to love one another genuinely from the heart, to pray means to spur one another on to love and good works, to pray
"The true spirit of prayer is no other than God's own Spirit dwelling in the hearts of the saints. And as this spirit comes from God, so doth it naturally tend to God in holy breathings and pantings. It naturally leads to God, to converse with Him by prayer." - Jonathan Edwards
If you want to read more about what our future holds check out Revelation 21. We have a ton to look forward to, but nothing is more important than being with our Savior and Great God in His presence fully worshipping Him and enjoying Him for all eternity.
Be blessed and keep your eyes on the prize and on the promises of His Word to His children.
Love in Christ,
Pastor Shane